Information provided by:  Illinois Realtors Association
A career in real estate can offer variety, independence, and great earning potential. You can train for this career at home with online courses, making it an attractive option for many people. Some people earn a real estate broker, managing broker, or leasing agent license with the intent to practice part-time, and others make it a full-time career.
Real estate is a highly challenging, commission-based job where your position is classified as "independent contractor" rather than a company "employee" working regular hours with a regular paycheck. Your financial success ultimately depends on your business plan, self-motivation and a lot of hard work. Is this career right for you?
Real estate licenses in Illinois
Broker license
Brokers help people buy, sell or rent residential real property. They act as an intermediary between sellers and buyers and help draw up the necessary legal paperwork to complete transactions. Brokers work under the direction of managing brokers. There are three steps to earning a real estate broker license in Illinois.
Residential Leasing Agent
Residential Leasing Agents work with property owners to market and show their residential properties and attract good tenants and they also help renters find and lease properties.
To earn a Residential Leasing Agent license in Illinois, you must be at least 18 years old, have a high school diploma or equivalent, complete a 15-hour Residential Leasing Agent Pre-LIcense course and pass the state licensing exam.
Video provided by Illinois Realtors Association: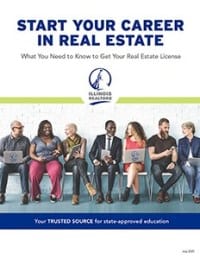 Pre-License Handbook
provided by: IL Realtors Association